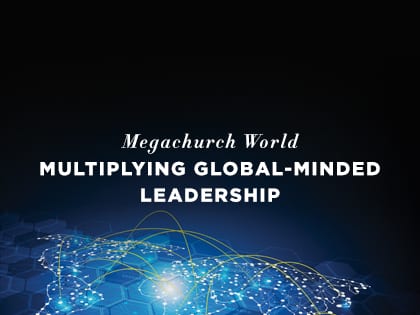 "The sooner this happens, the more heaven will be populated with people from every nation, tribe, people and language."
Two megachurches—Grace Church in Noblesville, Indiana, and Nairobi Chapel in Kenya—have formed a partnership to plant new churches in five gateway cities. The dream is for each congregation to look like heaven by reaching "every nation, tribe, people and language" (Rev. 7:9).
This multicultural vision starts with the church-planting team connecting with an indigenous third church in each chosen gateway city. Not only will this launch group be made up of people from more than one country or culture, but their training will require passports, with stops in three countries: the U.S. (at one of Grace Church's intergenerational campuses), the U.K. (London, the first gateway city) and Kenya (Nairobi Chapel, for leadership development opportunities).
If this pathway sounds exceptional or extreme, think again. Global immersion might become the new normal as a growing number of churches form cross-continental partnerships to demonstrate the gospel to an increasingly urban and diverse world.
Global-Minded Internships
Church internship programs are on the rise, with 74 percent of large U.S. churches now offering a formal internship for training leaders. A Leadership Network study of these programs found that most churches offer at least two levels of training. One level might be an entry-point, "discover your calling" broad exposure to local church ministry. A second level might assume that the intern has a very specific calling plus prior training. This second level is more like a medical residency where doctors in final training hone their craft under the tutelage of seasoned physicians. Likewise, a pastoral or church-planting residency offers trained leaders a focused, final stint in an environment of strong role models.
Nairobi Chapel and Grace Church have offered internships for years, but they're both taking their programs to new levels as they rise to the challenge of their partnership in church planting.
"We've retooled our internships to add ministry residency and pastoral residency levels," says David Bell, pastor of leadership development at Grace Church. His responsibility is not only to assist in the integration of the global church-planting partnership at the staff level, but also to develop more pathways for lay leadership development. "Sometimes we need to hire more staff," he says, "but more often the solution is to train and develop more lay leaders."
Global Church-Planting Residency
These two churches are not alone. NewThing, a church-planting network created by Community Christian Church in Chicago, has been offering residencies since 2006.
"For us, residency is the chute before you launch a new church," says NewThing Director Patrick O'Connell. "It's the final step before you plant a new church."
The goal of a NewThing residency is to train and equip apostolic leaders to reproduce movements of churches. It is an intensive experience in which the resident spends up to a year apprenticing with a campus pastor or lead pastor at a NewThing church, which can be found across five continents. During this one-year, self-funded apprenticeship, the resident learns and trains in the fundamentals of leader reproduction.
In 2016, NewThing added a new track: a global residency program designed to send church planters from all over planet Earth to be trained in various cultures and contexts in order to ultimately plant a reproducing church in one of the major gateway cities of the world.
"Our desire is to see movement-making men and women of faith raised up and equipped to plant churches anywhere in the world," O'Connell says. "Our global residency program is designed for those who long to be a catalyst for the global expansion of the kingdom of God, helping people all over the globe find their way back to God."
Each global resident spends multiple months in one, two or even three different cultures, being apprenticed in how to start and lead a missional church movement. The program is a combination of classroom-based training, hands-on leadership opportunities and firsthand cross-cultural experiences.
Cathleen Rotich, originally from Nairobi Chapel, is global residency champion for NewThing. Her goal is to work toward raising 40 global residents a year. "We are looking for catalytic leaders who will plant not one church, but multiple churches," Rotich says, "those who will start a movement of churches, those willing to work with people from all over the world."
"There are cities all over the world who would be responsive to a global mix of leadership reaching out to them with the gospel. But it is not enough to plant individual churches. NewThing's dream is for one resident per site per year. That enables leadership teams to go to one place and plant pregnant with two or more churches."
Indeed, the sooner this happens, the more heaven will be populated with people from every nation, tribe, people and language.
Warren Bird, an Outreach magazine contributing editor, is research director for Leadership Network and author or co-author of 27 books for church leaders. Bird oversees Leadership Network's list of global megachurches at LeadNet.org/world.